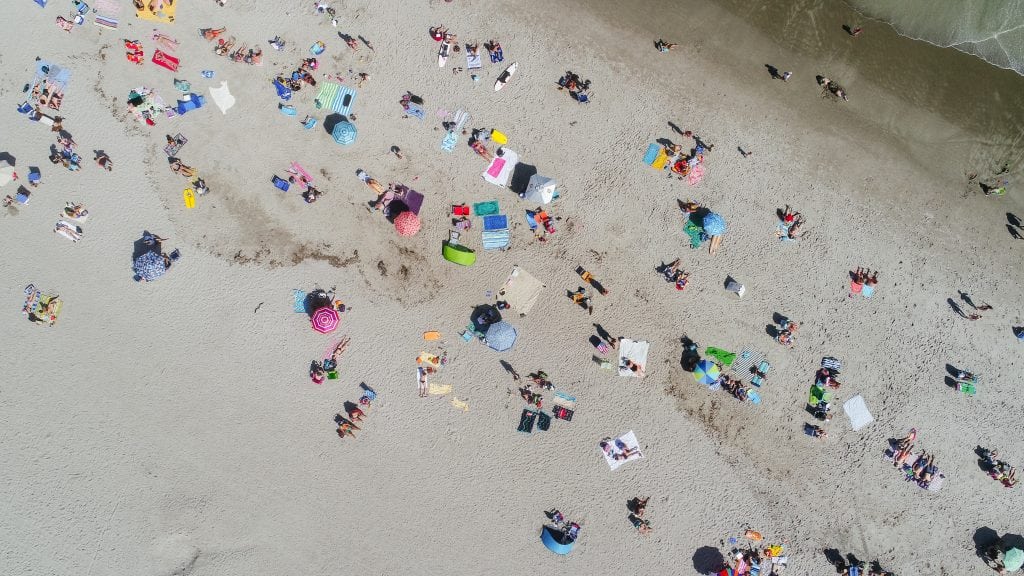 For many Torontonians, the beach is something you associate with a vacation. Or maybe it's a day trip to Wasaga Beach or Sand Banks. For most of us, if we dare to dream about living near the beach, we hope it will be in retirement when we can winter in Florida or Cost Rica or some warm, seaside town. But why wait? If you can really appreciate living close to a beach where you can step out for a nice walk along the water or even a dip in the lake, Toronto has more options than you think.
In many parts of the world. like Sydney Australia, living near the beach can clearly be a real boost to your property values and you mood. The beach is not only a beautiful spot to enjoy the ocean and possibly surf ( in Sydney), but it's also a community hub where locals meet, restaurants and businesses are busy, and if you look out over the water, no one is going to build anything in front of you to block your ocean view.
In Toronto, when I say "beach", most people think of the Beach neighbourhood (previously known as the Beaches) since it feels like the quintessential beachside town. Some may also think of the clothing optional beach on Toronto Island that functions more like a destination for day-trippers than a spot for the locals. Then there's Cherry Beach. Once a well-kept secret, but now increasingly popular on a hot day. It's a great place to take your dog off-leash for a swim in the designated dog park on the water.
There are many more beaches in Toronto though. We are situated on a huge lake after all. We are a waterfront city. Beach areas can make for some great places to buy properties and spend some of your summer time. We all know of the Beach neighbourhood, but what other options are out there? Here's my choices for top Toronto beaches to buy a property near.
BLUFFER'S BEACH PARK Scarborough has some of the best beaches since it's waterfront has not been as built-up or industrialized as Toronto's. It's safe to swim. It has views of dramatic cliffs that make you feel you are not in a city. Less busy and much easier to find a quiet spot than "the Beach" neighbourhood.
MARIE CURTIS PARK This park you'll find right before we reach Mississauga. It is a pleasant surprise to many. This park has been recently upgraded with a new playground, an off-leash dog park, and beach volleyball. This one has properties very close to the beach and some right on the water. Those on-the-water properties are quite expensive, but go a little north and things get a bit more reasonable.
ROUGHE BEACH The city's most easterly beach, just before Pickering is serene. For the naturalist, there are wetlands and wildlife in addition to the beach. Like Bluffer's Beach, you won't be fighting the crowds for a spot to lay your towel and lather on the sunscreen.
SUGAR BEACH If you just need to live downtown, then there's still a beach for you! Sugar Beach is the Toronto mascot for an urban beach. This beach is more about hanging out by the lake than swimming in it. Its trademark pink umbrellas can be very instagram-able. The downtown folk deserve a good view of the lake and a nice lake breeze to enjoy while sitting on a Muskoka chair. To be honest, I'm not a big fan of many of Toronto's waterfront condos, but facing the lake is a huge improvement over facing the Gardiner. And a beach nearby is nice in the heat of summer.
SUNNYSIDE I guess the downside to Sunnyside is how close it is to Lakeshore and the Gardiner, and the best swimming is likely in the long-standing Sunnyside Outdoor Pool (Built in 1925). Still, some recent upgrades around Ontario Place to the east makes this stretch of shoreline pretty impressive. I think blogTO describes it best here. Plus the trails here just link up to the Humber and you can ride your bike all the way out to Leslie Spit in the East.
Toronto beaches are way more plentiful than most people imagine. And if you live by one of them, you'll likely put it to good use, and it may help to sell your house and boost the property value. I think there was a time that living near the water in Toronto didn't carry that much value in many Toronto neighbourhoods outside The Beach. Today, with the water cleaner than it used to be and some hotter summers on the horizon, living near the beach can feel like a dream come true, even if it's just a simple dream about a walk on the beach on a hot day where the temps are just a few degrees lower by the lake.