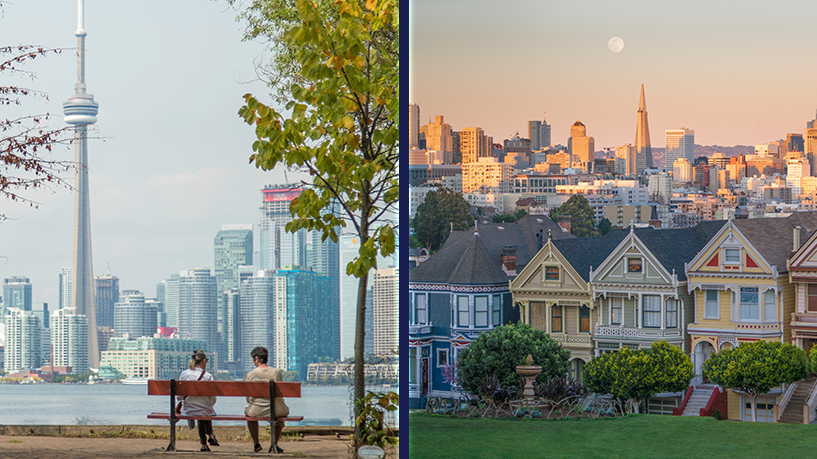 Not so long ago, comparing Toronto to San Francisco would have thrilled most Torontonians. San Francisco, an incredible and beautiful city, technological innovation hub, a beacon of LGBTQ+ liberation, renowned universities, the birthplace of the hippie movement, and some of the best-preserved historic architecture in the United States. It resides in the juggernaut state of California, boasting a GDP larger than that of France. Like Toronto, it proudly features streetcar transportation as part of its identity.
However, recent times have painted a less rosy picture of San Francisco to the world. Despite its remarkable attributes, the city has endured a barrage of negative publicity since the onset of Covid-19. While some of this criticism may be political hyperbole, there is no denying that San Francisco faces challenges.
Office vacancy rates in San Francisco currently stand among the highest in North America, at around 30%, compared to Toronto's 18%. The cost of living in San Francisco is among the highest globally, making Toronto appear comparatively affordable. The resulting housing shortage has given rise to a homelessness crisis and affordability concerns in San Francisco, accompanied by an uptick in crime and drug abuse.
The decline in both corporate and tourist foot traffic has forced many retail businesses to shutter. Notable brands like Old Navy, Banana Republic, Crate & Barrel, AmazonGo, Saks Off Fifth, and Office Depot have exited the city.
While some alarmist politicians have declared San Francisco's demise, most recognize that the city remains resilient, albeit with significant challenges to address.
For Torontonians, the question arises: Could this happen here, or is it already happening?
Upon closer inspection, it becomes apparent that Toronto has experienced a similar impact to San Francisco since the advent of Covid-19. Many downtown businesses have struggled to recover from the disruptions of 2020. This trend has been observed across North American cities due to the surge in online shopping, which has dampened the appeal of physical storefronts.
Toronto shares some of San Francisco's challenges, albeit to a lesser degree. The city has seen an increase in homelessness, an affordability crisis, and a rising number of vacant offices. Addressing these issues will require effective policies and governance to promote housing development and homelessness solutions.
However, there are key differences between Toronto and San Francisco. Toronto builds more housing per capita and utilizes underdeveloped land more efficiently than San Francisco. While San Francisco's architecture tends to be low to mid-rise, Toronto's skyline boasts greater density.
Moreover, Toronto's tech sector, while robust, has not spurred the same influx of wealth and price increases seen in San Francisco. Toronto maintains a more diversified economy, which has been impacted but not dominated by the tech sector to the same extent as Silicon Valley.
Additionally, the state of California is facing population decline, while Ontario is growing. California's high taxes and cost of living have driven some residents and businesses to seek alternatives in other states like Texas. In contrast, Ontario remains an attractive and expanding province.
While some individuals have relocated within Canada for more affordable real estate, Ontario is not experiencing the same level of population shrinkage. Canada's major cities, including Toronto, tend to share similar cost-of-living challenges. In contrast, the United States offers options like Austin or Nashville, which are popular destinations for those seeking more affordable living while still enjoying city amenities.
Toronto faces many of the same challenges as San Francisco at the moment, but the factors contributing to San Francisco's troubles are not as severe in Toronto. Both cities, despite short-term struggles, possess ample resources and resilient communities committed to their betterment. Cities naturally undergo cycles of change, and Toronto and San Francisco remain highly desirable places to call home.