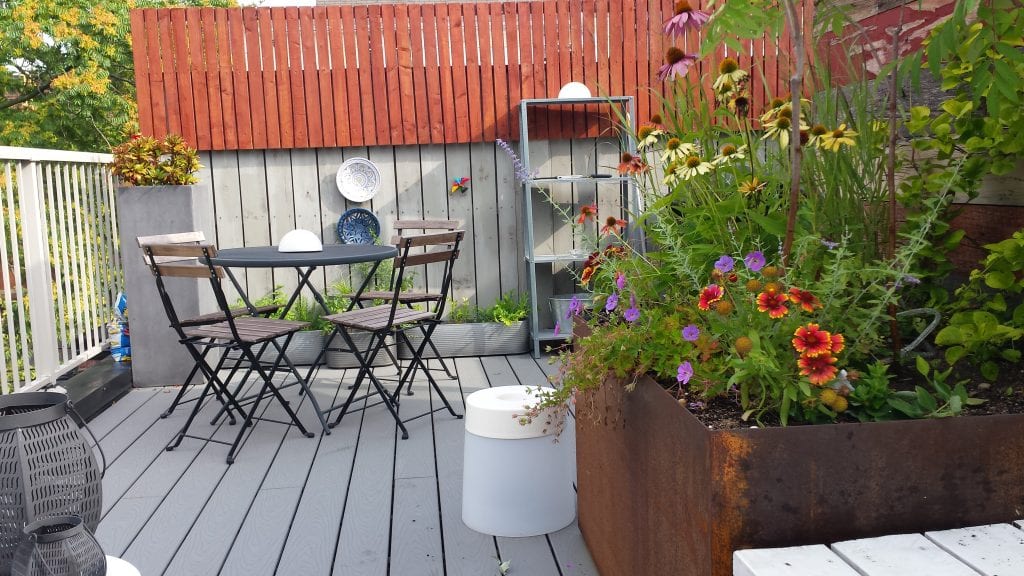 I have a deck off my office on the top floor of my house. When I bought my house, this deck played a small part in my decision to buy here. I had dreams of entertaining and having friends over at sunset while drinking summer drinks, grilling something on the bbq. But in reality, I use it much less than I thought. I almost never bring any houseguests outside to the deck.
There are times when I do spend time out there, especially in the first warm days of Spring when we're all so desperate for some sun on our face. It's during those days where it feels like heaven just to be outside. But, strangely enough, I don't use it as much as I thought I would. My dog goes out there most months and just sits in the sun for a good hour and relaxes on most days. Kinda makes me feel good just to watch an animal enjoying the deck. With houses, though, you often have a yard, so a balcony is not your only outdoor space.
For a condo, sometimes it's all your outdoor space. That could make a balcony a very important part of the appeal. So, let me go back to the question I led with in the title: Should you bother with a balcony for your condo? The short answer: Yes and no. There are a lot of factors that could go into why you should or shouldn't buy a condo unit with a balcony or outdoor space. Sometimes, it's a great idea, and sometimes it is not a good idea at all.
I think the first thing to consider when you are buying a condo with outdoor space would be to ask yourself this question: Would you use it? Of course, we all know that there are times of year where you would never use your balcony. Most of winter, and the hottest part of summer may be two times when your balcony, deck or terrace would certainly feel neglected.
Many Toronto developers have reported that most buyers claim on surveys that they want balconies, but most of these buyers never use them. When I ask many condo dwellers if they use their balconies, many claim they do not, but have also stated that they still like to have them, even if it is merely to step outside and see how the weather is doing on a particular morning.
There are a lot of factors going on about whether you should buy a condo unit with a balcony. Most importantly, why do you want it? If you are the kind of person who believes they will never use it, then don't bother. If you really feel you need it and opening that sliding door and stepping out into fresh air will make your life better, then do it.
Still, even if you are an outdoor person you may wonder if it is a good investment. And this is where you need to drill down to where and how your condo outdoor space functions.
If you are up very high, above the 30th floor, there is a good chance that any balcony will be windy. When you open the door, you'll feel like you stuck your face in front of a giant hand dryer. You may even grab the wall to stop yourself from being blown back. If it's really windy, you likely won't use it.
I have seen rooftop decks where the furniture is chained to the concrete because it's so windy the furniture needs to be secured to the ground, otherwise the furniture will take flight and possibly lead to an unpleasant lawsuit from a pedestrian below.
Also, consider the view. If you have a balcony that looks over the garbage bins, you won't spend time outside. Even the most outdoorsy among us won't last long when your neighbour's week old lasagna is baking in the sun and mixing with your other neighbour's leftover fish packaging.
Also, consider the noise. If your balcony is facing the Gardiner, your stress levels may go up, not down, when you step outside – not to mention the pollution!
Views do matter. Light does matter. You will use a balcony if it the views make you feel good. That will also help with resale down the road. Guests who come over will step out on to a balcony without even being escorted if the views are great. And if it's bright and sunny (and not too hot), then the brightness will also draw you out of the indoors.
Now let's talk size. Juliet balconies are not really balconies. Don't get me wrong, they are not a bad thing, but they are more of a giant window. A good way to air out your unit or check out the temperature first hand. If you have a large balcony, it makes a huge difference because it can become a point of entertainment. If it only fits two chairs, then as soon as you have three people over, everyone is inside. If you have a lot of space, then people will go outside.
A lot of balconies do not allow for bbqs. If they do have a bbq hookup, then this makes for a very good balcony, in my estimations, because it becomes your outdoor kitchen. For resale, bbq-ers prefer to have their very own bbq.
Finally, if you want a really awesome deck, the rooftop ones are often the best. For most, you have more privacy, more room and more light, and they are often a good size. Here is a listing I had that has an amazing 219 sq ft rooftop deck to accompany a 1 bedroom loft condo. Having some wow factor on the balcony can certainly add to a condo's appeal.
If you don't have a balcony and you love the great outdoors, don't fret. Many condos have outdoor areas and rooftop patios with their own bbqs that you can book to use for a time. Some even have outdoor pools. So, having your own balcony many not mean much to you. It all depends on how much you like to share your space.
I certainly don't use the top floor deck in my house as much as I thought I would, but I am very happy that I do have one, even though I have a yard as well. My dog who does like spending time in the yard prefers to sun on the top floor deck because it's brighter, more private, and warm – or so she tells me. If she had to choose, she would pick the outdoor space closer to the sun, even though squirrel-chasing is much better in the yard.