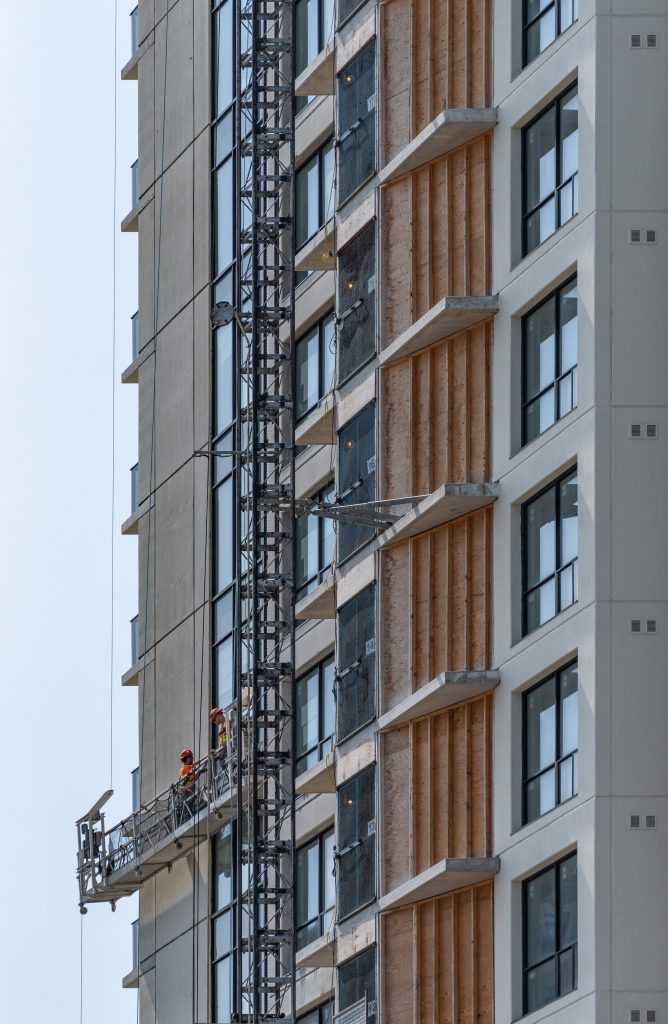 I confess. I love following condo construction in Toronto. I follow pre-construction condos very closely. I am razzled and dazzled by the proposal locations, the design (or lack of design), and how a number of condo projects in the same neighbourhood could transform a given area.
There is an undeniable appeal to pre-construction. It taps into many people's fantasies about living their best lives. It's a sale that happens all up in your head. You imagine the space, and what it will look like, before it's even built.
On a practical level, there are some big pluses to buying pre-construction. When you are buying a brand new unit, your appliances, your heating and cooling system should be under warranty for a short time. Depending on the item under Tarion warranty, you may be covered for 1, 3, or 7 years.
That's not the only good things about pre-construction. Unlike resale purchases of real estate in Toronto, you have a 10 day good cooling off period. So, you can always change your mind. You can choose your finishes to the way you prefer, and not have to adopt someone else's design choices. Because of that, there are no renovations required. You move in and live. Finally, if you really want to get into a given neighbourhood and the new condo project is way for you to do this, then I say get in there, and buy pre-construction.
But as a general concept, I would usually not recommend buying pre-construction at all. You are way better off focusing on resale. Why?
PRICED FOR THE FUTURE
Simply put, pre-construction condos are priced for the future. They are sold at the price that the developer thinks the condo will be worth when the condo is projected to be done not at the time you buy the condo. So, if you buy a condo in 2021, and it won't be done until 2024, then you pay the projected price for 2024, which is always more expensive than the year you buy it. Now, to be fair, the gap between the cost for pre-construction and resale condos have improved over the past few years in Toronto, but there's still a gap.
In addition to the cost of the unit itself, parking and lockers are often sold at a much higher cost in pre-construction condos than they would resale in the years to come. Parking has become more of a premium in some areas, that's for sure, but most pre-construction condos do charge far more for parking than resale. Same goes for lockers. Again, if you love a condo and just have to live there, this premium may make sense to you.  Perhaps the increased value in a neighbhourhood on the rise will offset the cost. Perhaps there are not many condo options in a given area. There are a lot of factors that go into buying a condo. If price is a big one, then pre-construction can be less appealing.
RISKY BUSINESS
In Toronto, most pre-construction condos will make it to completion. The rules in Toronto development are stringent, and you do need 70% sold units before you can build. Still, things can go sideways. Take Urbancorp, the big Toronto condo developer that went bankrupt in 2016. Some people who bought into Urbancorp project a this time were left with an unfinished condo building. Developers also cancel deals. Take the Museum Lofts on Sterling. Beautiful design, but never meant to be. The land appreciation where the Museum Lofts were to be built likely had a quick appreciation from the time it was purchased by the developer until the time it was sold.  For the developer, it may have been more profitable or easier to resell the land to another developer and take the profits, instead of building the condo. That's not the official story. The developer blames city delays for the reasons they pulled out. Regardless of the reason, your condo could be cancelled.
If you purchased a condo that is no longer going to be built, you think you would have your deposit sent back to you right away, but that's not always the case. It can take years if things are tied up in court.  Most people do receive their money back, but they can't buy anything while their deposit is held up. Even if the entire deposit is returned several years later, there's a good chance the new real estate market will be more expensive when the deposit returns to your bank account. That time spent waiting will have you buying a property in a much more expensive market. Again,  this is not common. The overwhelming number of condos that get to construction make it t0 completion, but there are no guarantees.
QUICK RISE OF MAINTENANCE FEES
Maintenance fees almost always go up. It's inevitable. How much it goes up depends on the condo. The difference between a healthy older condo that has been around a number of years and a new one: The healthy one has a reserve fund. The new one does not. So, when someone sees the maintenance projections for a new condo, it seems almost dreamy that the maintenance fees are so low. And really, it's just a dreamy projection. Most of us already have a sense that a pre-construction condo's projected maintenance fees will be rosy. But you should also be aware that any new condo has no reserve fund. In order to build it up, you'll have to start raising maintenance fees quickly to fill up the reserve fund. So, the first five years can see some maintenance fee jumps that are higher than average.
CHANGE OF PLANS FOR FLOOR PLANS
One good thing about resale: What you see is what you get. You walk through it, you see what's in front of you. When you're dealing with pre-construction, floor plans can change. The builder, as an example, could put a pillar in your living room if it's required and there's not much you can do about it. It is written into your contract. No discount for that change. Same price you paid with or without pillar.
YOU CAN BE A DIFFERENT YOU BEFORE YOU TAKE POSSESSION
We all know that pre-construction condos never finish on time. So, if you buy one when you're single ,and it's not ready for 8 years, you may have a partner and two kids by the time you can move in. At that point, a one bedroom apartment may not be a good match for the new you and the new family. If you're an investor, then it may work out fine, but if it's for you to live in, you may want to buy something that fits your current life. Most resale condos will have you moving in within 60 to 90 days of purchase.
DOUBLE QUALIFICATION
Timing may be an issue for pre-construction when it comes to your finances. You will need to qualify for a mortgage twice. Once when you buy the condo and once again when it is registered. Sounds reasonable, but if you have a change in your circumstances, you may not qualify the second time. I'm not talking about losing your job. Maybe you go from a salaried job to a contract position. You make more money, but the bank doesn't want to give you the same mortgage because they see you as risky. Sometimes the banks are funny about any new job you start. So, if you just started a job, the bank may be less willing to fork over the mortgage the second time. You may still be able to secure a mortgage, but at a different rate.
EXTRA COSTS
There are costs associated with pre-construction that you won't find in resale. There are interim occupancy fees that you pay as a kind of rent between the day you can occupy your unit and the day you take ownership. None of this goes toward your principal.  Then there are builder's fees, possible park levies, and more expensive closing fees with your lawyer than with resale. Though this isn't an extra cost, you may have to put down a larger deposit on a new condo than a resale one.
Despite the idea that I think pre-construction is a bad idea for most buyers, I do think pre-construction is still a good idea for some people, and some investors. You just need to be aware of what is ahead of you.
If you do go ahead, let me offer two tips:
TIP #1
Beware of builder's sales staff. They are not required to be regulated. They are working for the builder, not you. Have an agent work for you, or choose a builder who is selling through a brokerage.
TIP #2
When it comes time to eventually sell your unit, don't sell it as soon as it is registered. A lot of people sell as soon as the units become registered, and it can flood the market in your building with the same condo unit, pushing down prices. Wait a few years if you can. Let that inventory burn off, and sell when it's more established. The sweet spot for selling resale condos tends to be around the 5 yr mark. Not old enough to be dated, and a more established reserve fund.