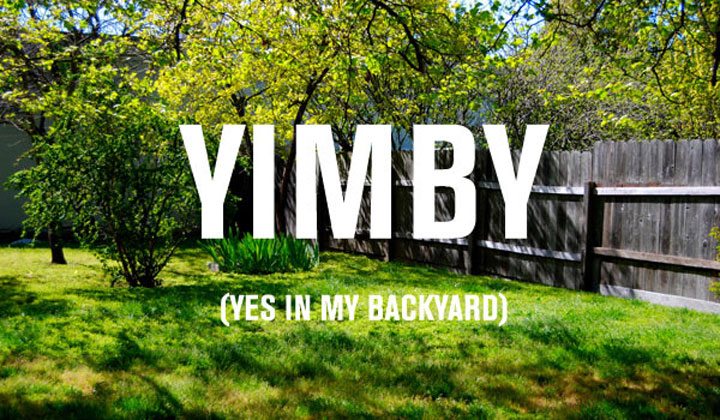 Many of us have heard the term nimby. Some of us may have been a part of a nimby initiative in their own neighbourhood. In case you are not familiar with the term, nimby is an acronym for Not In My Backyard. In other words, nimbies are often keen on keeping the neighbourhood in which they live as it is. Though they can protect the character and pleasantness of their neighbourhoods, they are increasing viewed as resistant to any change.
But let's not be too cranky about the cranky. Nimbies can be a force of good. They have proven to be a safeguard for many neighbourhoods, protecting its residents from loss of green space, poorly planned condos or the opening of an all-night disco on a quiet residential street.
As a positive example, we can look to Jane Jacobs and other Torontonians who blocked Spadina Ave from becoming the Spadina Expressway in the early 70s. These nimbies literally stopped an expressway from landing in the backyards of many downtown folks. We would have been a less vibrant city without that nimby spirit.
On the other hand, nimbies have been blamed from stopping less worthy causes in their neighbourhoods, where a constructive coming together has turned into an outcry of "no" to every thing. In Tornonto's east end, nimbies recently complained about the noise and exhaust fumes from food trucks parked near Woodbine Park as part of a city-led pilot project. Downtown at Ryerson University, recent plans to upgrade the soccer field at St. Patrick High School were cancelled after nimbies insisted that it would cause too much traffic.
The force of nimbies have grown stronger than ever in Toronto. Well-organized groups can bring new projects to an grinding end. City officials and developers have learned to fear them. The more and more restrictions laid out by nimbies has led to a reaction, and the rise of their counterpart: The yimby.
You may have noticed that the only difference between the nimby and the yimby is the the first letter of their name. That letter makes ALL the difference. Where nimbies say no, yimbies declare: Yes In My Back Yard!
Yimbies believe they often suffer from the decisions made by nimbies. Yimbies tend to be younger. They are renting or have not purchased a property just yet.
Currently, Toronto has a low vacancy rate of less than 1% and increasingly unaffordable homes. Yimbies have felt the impact from the lack of development that has been stalled or stopped by nimby organizations. Less development leads to fewer places to live, and in turn, higher prices on homes and rents in Toronto. Yimbies are not insisting that we need to build a ninety story condo building a quiet park with a playground. They do, however, support and encourage the exact opposite of many nimbies don't want – more development in existing Toronto neighbourhoods.
In some ways, I understand the suspicious nature of the nimby. If they tend to be on the older side of the demographic range of Toronto, then they will witness a lot of poor planning on Toronto's part. As an example, St Jamestown was once considered high-end luxury rental option for the modern Torontonian of the era. It was a project built with good intentions but failed miserably to hit its goal, and now many of the buildings in St. Jamestown are neglected by their owners and managers. In a nutshell, nimbies have often been proven right to distrust what Toronto officials or developers tell them.
On the other hand, it is only fair that those who want to buy or rent in Toronto should have some options. We are a changing and growing city. To deny that we will become more dense is a mistake. Nimbies have their place, but many younger Torontonians are feeling they have become restrictive and detrimental to the growth of a neighbourhood. And who could blame them? Nimbies are increasingly garnering bad press. Remember the concerns over "density creep" near Yonge and Eglinton over a four story 80 unit condo building back in 2015? One local resident declared she was unhappy that the condos were being sold at $500,000 in her neighbourhood. She felt they may effect the property values of the houses in the area running $1,100,000 to $2,2000,000 at the time as if a condo sold for $500,000 would bring in the riff raff.
Development is necessary, and a good thing if done wisely. Developers do need pressure from community groups and the Official Plan of Toronto that would prevent new construction that does not fit in with the neighbourhood. Still, we need to create more housing of all types. And I think Toronto has more space than we realize. Laneway houses will allow for more low density housing. They're are tracks of land around the city that could still be used for highrises and midrises. There is still a lot of unused industrial areas, parking lots, and huge swaths of undecided land in the Port Lands of Toronto that would add a whole lot of housing once if it was cleaned up with the flood plains all worked out.
Let's not forget what densification does. It leads to more traffic and less room on the subway, but it also improves local businesses by adding more demand on their products by bringing in more customers. You have better amenities nearby – better restaurants, markets, clothing stores, and cafes. It creates a more walkable, safe and lively neighbourhood. It allows future Torontonians more options to buy.
At the end of the day, you can't make everyone 100% happy, but we also have to remember we share this city, and we want to make it a place of smart development instead of a place where we try to rigidly grip on a past that will not work as a good model for the future.
Go Yimbies.