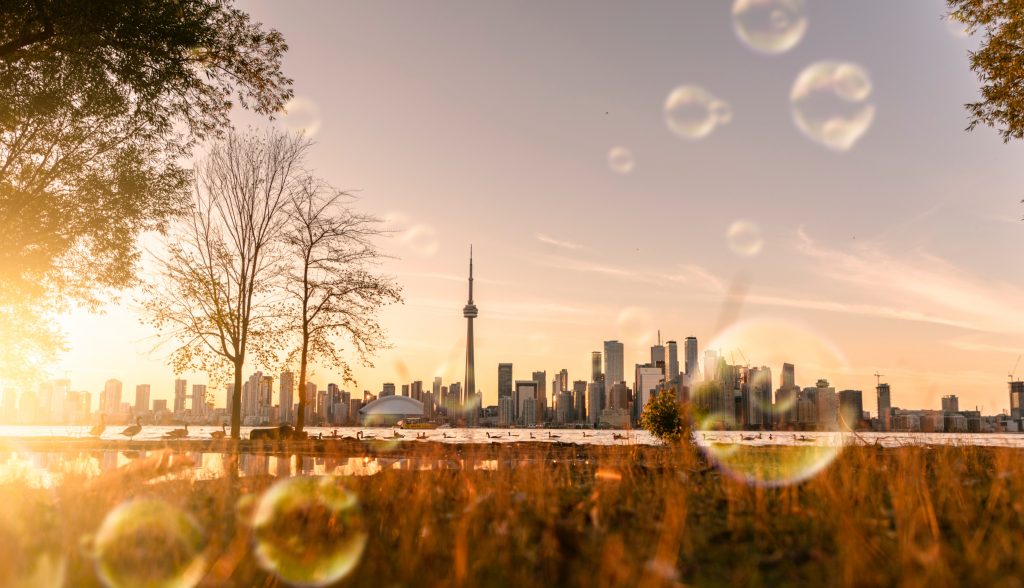 If you have been ignoring real estate for all of 2021, you may not know that Toronto prices are up. And by "up", I mean significantly up. Not just in Toronto, but the suburbs, other Ontario cities and town plus all of cottage country and beyond. In fact, I can go so far to say, that it is almost the entire country. And outside of the country too. New Zealand. Australia. Parts of the United States. So, we can safely say that this is not a city phenomenon. This time it's not really about Toronto.
When prices go up like this, there are usually two reactions. Those who own real estate are thrilled, and those who are buying real estate are not so thrilled. On top of that, many of us are surprised that this is happening during a pandemic that is putting a damper on our economy where some of us are under more financial strain due to the pandemic.
If you follow the lead from the experts, this 2021 rise in Toronto real estate prices was not on the radar. This rise in prices is not exactly the 18% collapse of the Canadian real estate market that was predicted by the CMHC (Canadian Mortgage and Housing Corporation) had called for during the pandemic.
You can't really blame the CMHC for having it so wrong. It's a reminder that it's hard to make real estate predictions, even when they seem obvious. CMHC's prediction was hardly careless when the economy was shutting down in so many areas of the country. But it was wrong.
In fact, the average home in Toronto, including houses and condo dwellers, topped one million dollars in the start of 2021. Bully offers, bidding wars, and quickly advancing prices have been the hallmark of this this year's real estate in Toronto. More so for houses, but also for condos now.
And now that the data from the sales of the past 2 months have been posted, The Globe, even the New York Times have called out Canada as a bubble ready to burst. So, will it happen here in Toronto?
Maybe, but probably not. Here's why.
BUBBLE TALK HAPPENS REGULARLY
Every time there is a significant advance in Toronto real estate prices, there is a quick reaction from the media declaring that a bubble is forming. We had the same thing happen last year (before Covid) and the year before that. It's practically a yearly tradition. In fact, in some years, the bubble talk in the media tends to damper prices. Not a crash, but a slowing down of the price appreciation.  Now, I don't wish to imply that a correction could never happen in Toronto. I suppose these headlines could be right at some point, but only because there is a call for a correction so often.

TORONTO IS NOT THE SUBURBS
Prices in Toronto have been up so far in 2021, but let's have a little context. The Toronto area (including the suburbs) is up 23.1% year over year in price. Even higher in some areas like Cambridge and Waterloo. Toronto without the suburbs is a different story. As an example, let's have a comparison of the 416 and the 905 regions over the past year from February 2020 to February 2021 based on the TRREB stats. Here's what we find:
The rise in the suburbs had largely to do with people seeking homes where they can work remotely – a direct result of the pandemic. Space has become a premium this year, and our homes have a much broader function – office, school, and gym to name a few from this past year. So space has become a lot more important for us now. This space is much more affordable and abundant out of the city. Some Torontonians don't want to leave the city. So, they seek more space in Toronto. Those leaving their condo for a larger house in the Junction (as an example) are still acting on the same desire for more space. This is why we see much more appreciation in detached houses, semis and townhouses than condo apartments.
The number of smaller condos in the city have kept the prices down in 2020. Much of those have been impacted by the falling rent prices. It appears that November of 2020 was the bottom for the condo market. But prices have bounced back. So, even though we see a decline from last February last year, condo prices are up from November. For certain condo types, like condo townhomes or condo lofts, the prices are more aligned with house appreciation. Smaller condos in big buildings are just the last to bounce back, but bouncing back is just what they are doing this year. For more year over year stats and much more data, see Outline Financials excellent breakdown here. You can see the appreciation of Toronto property typels over a ten year average.
TORONTO HAS BUILT-IN RESILIENCY
As with any downturn for almost any reason, Toronto as a city does not go down easily. If you look at past downturns – the financial crisis in 2008, the run-up in prices in 2017, Toronto does slip in prices for a short time, but bounces back faster when compared to the 905 region. It's the last to lose price gains, and the first to bounce back. Not to mention, the price gains have been much wilder and bigger outside the city so far this year. It doesn't mean the suburbs are due for a correction, but it is likelier to happen outside the 416 than in it.
THE PANDEMIC IS STILL HOLDING BACK THE CITY
At the end of the day, the things that are holding back this city right now – the jobs that have disappeared, the Covid restrictions, and the isolation – the very things that drive people to the suburbs are going to end – likely this year. And when that happens, the appeal of cities will be much more appealing than now. The things that cities do best will all come back again. So, there may be some boom at the end of all this for Toronto. I think there are many people who have not had any impact on their income. There are even those who have grown their incomes more that expected during the pandemic with some high income earners. And they have not been able to spend for a year. Some of this money is going to be spent once this pandemic lockdown and restrictions are gone. And for those who have lost jobs, and have suffered a great deal during this time, many of those jobs are coming back. If you were laid off working on the airlines, as an example, I suspect there's a good chance you will see the largest boom in travel in decades after all this pent-up demand. People will be back to renting, working, travelling, going to sporting events, galleries, cafes and big events full of lots of people. And all of that will impact Toronto real estate.
Now, based on all the points I have just outlined, you may get the impression that is just rosy days ahead. That's not necessarily the case. There are still some forces coming our way that could apply downward pressure on the market. Interest rates are shockingly low right now, and with those boom times ahead comes inflation. So, those very low interest rates won't stay around forever. Fixed mortgage rates are already creeping back up. Those who are buying soon should lock down their rate now! As the rates go up, it will put a damper on prices. It will cost more to borrow money. This in turn, may lead to more of a levelling off of Toronto real estate prices. I believe we should have more of a slow down in price increases as long as rates don't go up too quickly when everyone starts spending their money again.
Whatever happens, I know this much: We won't have a run-up in prices over a long time. Real estate happens in fits in starts. Prices go up fast. Scary articles come out calling for a bubble. Price appreciation slow down or levels off for awhile. Then prices go up again. Does that mean there will never be a correction? No. I'm just not convinced that this time around that correction will happen.