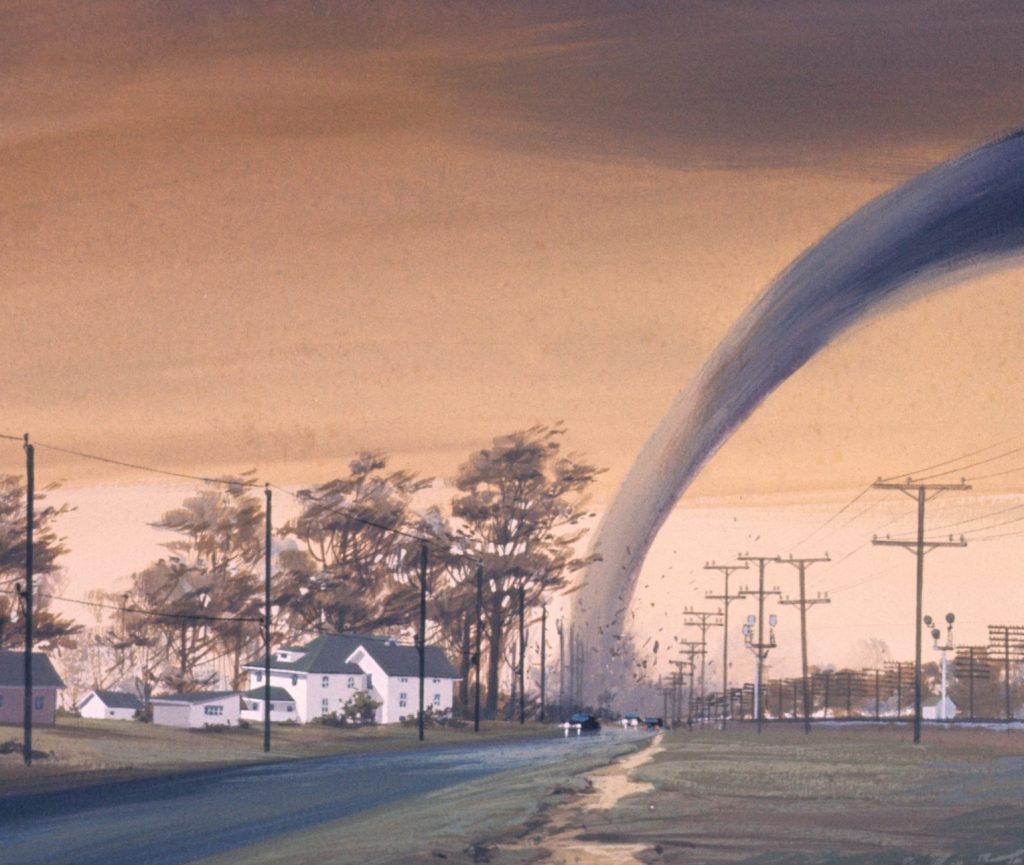 Tornado season usually arrives in the spring for North America, but for Toronto real estate, I believe we have entered a tornado real estate market this Fall. It may sound like I am making up the term "tornado market", but promise you I'm not. It is a real real estate term. Whether you're hearing this term for the first time or not, it sounds terrifying, like your house will be lifted up and dropped several blocks away on top of somebody else's house. But the scary thing about a tornado real estate market does not have anything to do with a tornado's windy power. A tornado Toronto real estate market resembles a tornado with its indiscriminate path. In other words, the tornado of the tornado real estate market will bypass one property and make a mess of another. To illustrate how a tornado market could work, let's take an example: One house could be put up for sale with an offer date next Tuesday. On the offer date, the houses sells quickly with 7 offers. Down the street, there is another house that will sit on the market there for months without an offer. That's the house hit by the tornado. Lack of interest. Few interested buyers and month on the market can make it stale.
So what conditions have been in place to create this seemingly unpredictable tornado market? What real estate weather patterns formed these tornados, and what should we expect next? As many of us know, interest rates have certainly been the big cause of these tornado conditions. Simply put, buyers' money does not go as far as it did earlier this year when mortgage rates were locked in at a lower number. Also, the economy seems shaky to many. The talk of recession is still very strong. And many people have decided they do not want to participate in this current market whether they are a buyer or a seller. Still, there is very limited inventory for buyers. So, when they see something they like, they pounce on it.
Though it can be difficult to determine what properties will sell quickly in this fall tornado Market, I do think we could take a closer look at this tornado market to find some patterns. Maybe it's not as indiscriminate as we think.
So, let's first look at where the tornado market is making landfall. In other words, what properties are having the most trouble selling this fall.
TORNADO ALLEY
Luxury houses are taking much more time to sell. When you hit midtown or North Toronto, we see that houses in this area are having the most trouble selling. In changing markets, the luxury market is often first to feel the slow down. That goes for houses and luxury condos alike. After all, it will cost a lot more to purchase a luxury home over $3 million with the change in the mortgage rates. But it's not just about luxury.
The tornados are even more frequent out of the 416 area in the 905 region of the GTA. In the 416 all condos and houses sold in September 2021 average out at $1,090,422. In September 2022, the 416 came in at $1,061,876. For the 905 region of the GTA, we have overall sales at $1,161,895 in September 2021 and $1,099,938 for September 2022. Overall we can see the suburbs have felt the bigger impact of the market than the old city of Toronto. Where the prices went the highest during Covid, we see the bigger declines now. Of course the suburbs that have more houses also had a bigger decline this year.
WONKY PROPERTIES
But why would one house sell quickly on a give street and another house of a similar size not sell? I will admit that I have seen houses on the market for 3 or 4 months that are perfectly fine. They have been the victim of poor timing. Many assume houses that have been on the market this long may have something wrong with them. And I admit, that is often the case in many markets in the past. In this one, it's not always the case. There are some good bargains out there right now with houses or condos that have been on the market for some time. That said, some have sellers that are living in February 2022. They believe their property is worth as much today as it was back then. They have not followed the market down. They want too much money for their properties. Their marketing has been mismanaged by the real estate agent or the house may have something very odd about it. Maybe there are really uneven floors. Maybe there is a difficult tenant. The staging may be poor or nonexistent. There may be good reasons it's not selling.
THE SWEET SPOT
So where are the tornado-resistant properties? Well, following our logic from the last point, we see that renovated properties in in-demand neighbhourhoods will sell more easily in this market. Those properties that show well will do the best. That may seem obvious, but I should point out that for houses, it's neighbourhoods like Leslieville or the Junction that are performing well. They often don't fall into the luxury market of some Toronto neighbourhoods like Rosedale or Leaside, but the demand is still strong.
Condos are different. Their success this fall also reflects how the condo looks, how it is marketed, and what neighbourhood you can find it. Beyond that, a condo's success is also condo specific. In other words, older condos can have a tougher time in this market. Condos that are poorly run may have a tougher time. Entry level condos where the price points are still accessible by first-time buyers are stronger than most higher-end move-up properties. Even with rates rising, the entry level of the housing market in all of Toronto will be in more demand since there are many buyers who want in.
This past September we have had the lowest number of sales in the GTA since May of 2020 when we were under quarantine and Covid was scary and new. It's the slowest September market since 2002. We are seeing very little inventory added to the supply and we are seeing less interest on the buy side. Buyers are buying less. Sellers are selling less. Prices are down from a year ago, but up from the last month. Shockingly, there were fewer transaction in September than in August of this year in Toronto. August is a notoriously quiet month for real estate transactions. And still, August had more transactions that September this year. Inventory is low. Transactions are few. To put it the most simplest terms: We have a stand-off. Buyers and sellers are waiting. Buyers are waiting for some assurance in the market or possibly a sign that the market has turned around. Sellers are waiting for a better market to sell in. I suspect this stand off may continue with more tornados in the forecast and few options for buyers. In other words, expect a tornado market until the end of the year where some properties sell quickly and in competition and some take some time. We likely will see a repeat of September in the coming months though I do believe we may see transactions increase this October.
---
Thinking of buying or selling? Contact me!

David Coffey, Sales Representative
416-465-7527 | david@davidcoffey.ca
Bosley Real Estate Ltd Brokerage
169 Danforth Ave, Toronto ON M4K 1N2