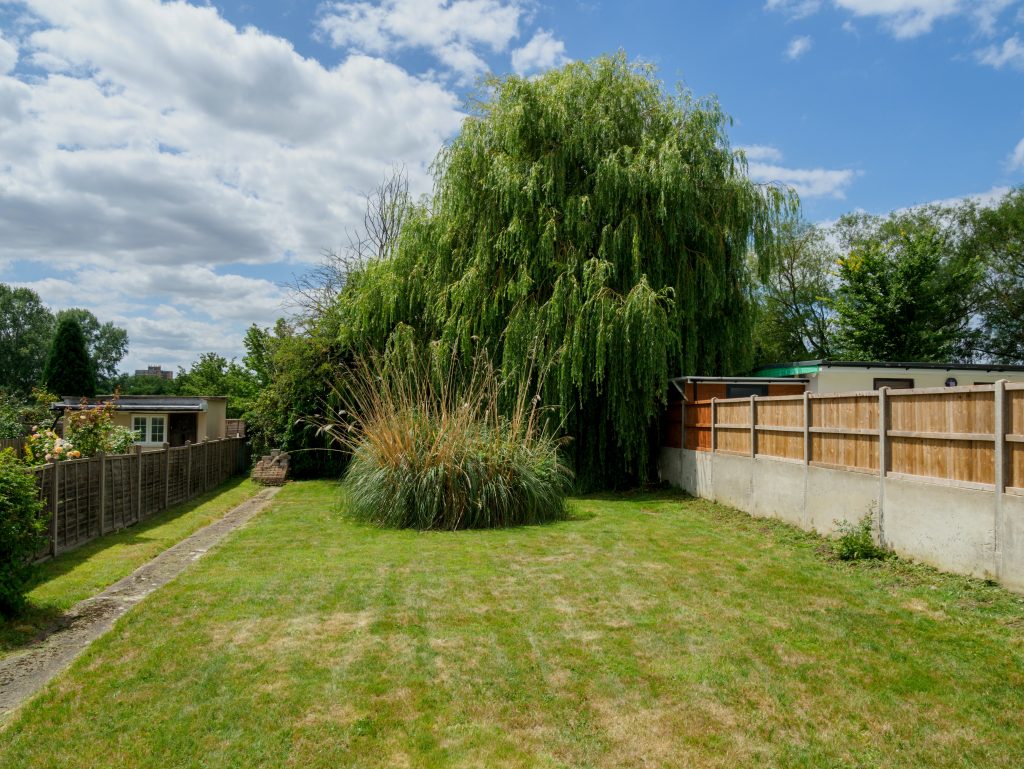 Most people interested in buying a house would like to have a big yard. Not everyone though. There are those few individuals who just feel it's too much work to keep up the yard. They would prefer a pleasantly petite outdoor space with a lot less time spent on upkeep. Fair enough. But most people dream of a big yard. It's good for entertainment, privacy, kids, gardening, dogs, raising chickens, growing food, parking, listening to the birds, and often allowing more light through your windows.
In most of Toronto, the concept of what constitutes a big yard may be smaller than outside the city. A typical property width for a house in the old city of Toronto ranges from 15 to 20 ft and goes back around 90 -100ft. A bigger lot would be 25 ft or more in width with a lot that exceeds 100ft. A rural Ontarion may scratch their head at our concept of a big yard, but these are generally the parameters.
Aside from the obvious reasons, there is another reason you want a big yard in the Toronto area: The land itself is increasingly more valuable than it ever was before. In fact, when you buy a house, your land is often worth more than the structure that sits on it. So let's look at the two dimensions that effect the value of the land: Width and Length.
WHY IT'S GOOD TO HAVE A WIDE LOT
Most Toronto houses and lots are slim in the older part of Toronto built before the 1950s. You'll find many of the houses with historical architecture tend to be high and long. Width is more of a luxury. Then in the 1950s along came the little bungalow. And though the bungalow was much smaller than the traditional house, it was much wider. It may not go back as far or have a second storey, but it has girth, and it has a lot of yard.
This is why we often see listings on sites like BlogTO that show us a little, dumpy bungalow that sold for a great deal of money. People say: "How can that be? The tiny bungalow is falling down. Who would pay for that?" Well, someone who would build their dream home on the giant lot that wide bungalows sit on or devleopers who can fit in two houses or three in the wide lot of the bunglow. It's not the structure, it's the land it sits one. Entire neighbourhoods of bungalows have been replaced by much larger homes in many parts of Toronto.
But it's not just about width. Its about the length of your property as well.
WHY IT'S GOOD TO HAVE A LONGER LOT
Longer lots may not be as valuable to some developers or indivduals who want to build their own dream home since it is more difficult to build big when you don't have the wide lot.
But there is a huge advantage to some houses in Toronto with a long yard. Laneway and recently allowed garden suites will make long yards a big bonus. If you have a long yard, you could possibly build a garden suite or a laneway house on your property. You may think: "Big deal! I don't want to build an expensive laneway house in my own backyard. If I want more real estate, I will invest it eslewhere."
But if we break down the numbers, it would be cheaper to build a three bedroom, brand-new, modern laneway house than buy a one bedroom condo in many Toronto neighbourhoods. And consider the much higher rent you could have from a modern 3 bedroom garden suite or laneway house as opposed to a one bedroom apartment, then the laneway house does not seem like such a bad option. It also creates some flexibility for intergenerational homes. If you have aging parents, you can have them closer to you without actually living with you. If you have children who you worry won't be able to afford anything in Toronto, you can have them live there as well. If you want to create a property where many close friends live together, laneway houses and garden suite homes could be something to consider. It creates options, and I believe it will make your property more valuable in the end.
Whether it's width or length, your property dimensions are currently more advantageous in some parts of the city than others. With most of Toronto's residential property in the yellow belt, it may feel like the current zoning may make any of these above options impossible for some Torontonians outside of old city neighbourhoods. Currently, the single family zoning of the yellow belt applies to 70% of the city. In this zone, you can only build single family housing on a given lot. This is about to change. You won't be able to build a giant 40 storey condo next to a single family house, but with the pressures of low housing supply, you can soon start to build triplexes or other mid-density options on the land. And when this is complete, your land may be worth a lot more that just a place to bbq and grow tomoatoes. Your big yard will be worth much more than that.
---
Thinking of buying or selling? Contact me!

David Coffey, Sales Representative
416-465-7527 | david@davidcoffey.ca
Bosley Real Estate Ltd Brokerage
169 Danforth Ave, Toronto ON M4K 1N2