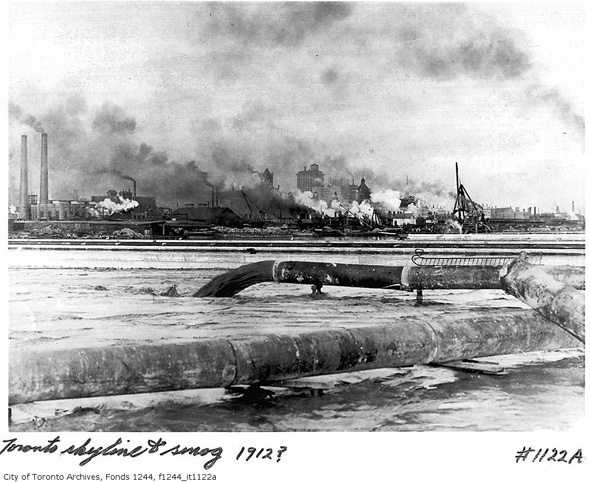 Let's first acknowledge that Toronto is not the perfect city. There is too much traffic. Less public transit that a city this size needs. Crumbling infrastructure. A serious social housing shortage. And it's an expensive place to live! But still, it keeps on landing in the top 10 of the most liveable cities in the world year after year. And let's face it, this city's expensiveness is proof, to a certain extent, that people want to live and invest here. But why has Toronto become such a darling of the rankers of top 10 best cities to live? To understand why Toronto has become such a success, let's start with a very brief history to sum up how cities have changed for the better.
Back a hundred years ago, cities were not great places to live. In fact, a child living in a big city like New York around 1900 lived, on average, seven years less than his or her rural counterpart. Cities were growing, but so was the crime rate. And with so many people living so close together in the pre-antibiotic age, there was a lot of opportunity for certain diseases, like cholera and tuberculosis, to take advantage of the urban density of the time. And let's not forget that back then cities were full-on industrial with coal-burning plants right inside the cities. Pollution was free for everyone.
So, how did these cities become so desirable today?
SMOKING UP  Have you ever looked at an old photo of Toronto from a hundred years ago, like the one above? Yup, that's some raw sewage being dumped right into the lake with a city that looks like it's on fire. This is what living in a city once looked like. No jogging on this waterfront back then. I even heard tales that the Don River used to be different colours on different days due to the dye factory upstream. Luckily, industry moved out of the city (or the country) and things started to look brighter after several decades. It was not a swift change. Pollution is still bad in most cities due largely to cars. Not too long ago, though, coal was a pretty big pollution maker. When Ontario got rid of the last of five coal-burning plants in 2014, though, the smog days we heard about every hot summer day in Toronto stopped happening.
RISE OF AND ESCAPE FROM THE SUBURBS  In the 1940s to the 1970s, the suburbs offered the middle class a house and a car. Seemed pretty sweet. And for a long time, the suburbs drained the wealth and the people from the cities. Then came traffic, and living in the suburbs became boring and alienating – or so the movies say. Also, they became expensive to maintain with low density and a group of voters that generally favour tax cuts instead of community-building. All of this made living in a city easier on your commute with ready made walkable main streets like Queen West, College West, Yonge Street, Roncesvalles, Bloor Street and the Danforth to name a few.
THE REBIRTH OF COOL Unless you were London, San Francisco or New York, it took until the 70s and 80s for other cities to really be cool. There's no denying that artists, LGBTQ folks, and multiculturalism transformed cities as a place of sin and crime to a place of diversity, some sin, and a place where you could find an amazing meal instead of boring suburban fast-food chains and box stores. Even back in the 80s, you could dine in Little Italy, Little India, Chinatown or you could even mix it up a little with a Jewish-Chinese mashup like Ginsberg and Wong. As crime went down in the city, money came in, culture came in, and big polluters left or shut down. Places that were once a site of industry became Liberty Village, St. Lawrence Market or the Distillery District.
This is a pretty quick and simplified version, but cities did become something less functional and something more aspirational. Of course, not all cities had success, Everyone has been waiting decades for Detroit to turn around. Cleveland and Buffalo are less than half of their peak size. Not all cities thrived as much as Toronto has to make all those top 10 liveable city lists.
Why has Toronto done better than other cities?
DOWN RIVER  There was a time when Montreal was the bigger and better city. Some may still argue that it is, in many ways, a prettier one. It's certainly more of a Euro city visually, but in terms of size, GDP, and pure dynamism, it's not a match anymore for Toronto. After the political fall-out in Montreal in the 60s and 70s, and the exodus from Montreal to Toronto, there was no turning back. But it's not just Montrealers. Toronto has become 51% foreign-born absorbing a good portion of the country's immigrants. We clearly have wider appeal than just the Montrealers down river.
TORONTO THE GOOD BECOMES TORONTO THE EXCITING Sure, the Maple Leaves have not delivered in decades, but there's no denying that Toronto as a brand has improved. In sports, we can now get excited at Toronto FC and the Toronto Raptors who actually go far in the playoffs from time to time. Drake shows Toronto all over his album covers, and we now get featured in movies as Toronto, and not always a stand-in for somewhere else.
BOOM ON Toronto has been booming for decades now. It's hard to imagine a time when growth and change was not such a part of life in Toronto. People have come to expect transformation as a way of life. There were 13 skyscrapers in 2005. Now that are over 50 with 130 more in the works. The GTA is close to 2.8 million, and some estimates have the area at 9.5 million by 2041.
But let's not get too smug. The story does not end here. We have, in part, become a victim to our own success. Many new immigrants, artists, cool cats, and many in the middle class that made Toronto special in the past decades, cannot afford to live here any longer. Now, I don't think this turns Toronto into a cultural wasteland, but it does change what has been built. And change is what we do here in Toronto. We transform. Constantly. For the better and the worst. We've been doing for decades. And we'll just keep on doing it.