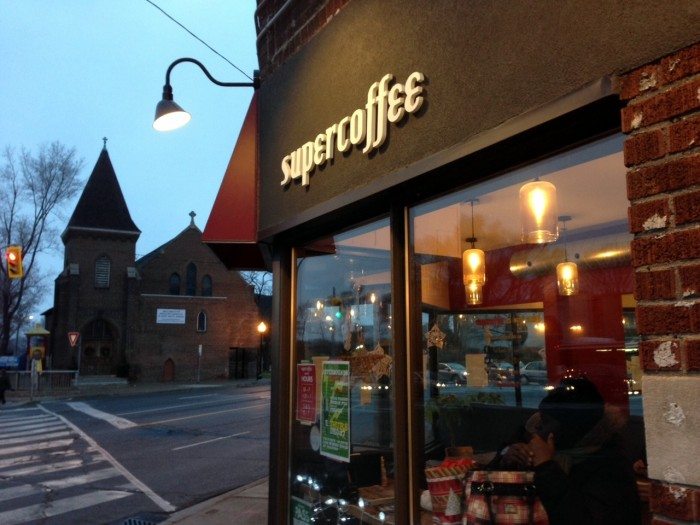 Recently on the cover of Toronto Life I saw a reference to "the New Leslieville". I found this to be a little curious since only 15 years ago Leslieville was considered to a "new" and upcoming neighbourhood to watch itself. Now Leslieville has become a neighbourhood that could be duplicated somewhere else, instead of a neighbourhood that is still emerging itself.
An emerging neighbourhood is a pretty relative term, I suppose. You could argue that Leslieville is a late stage emerging neighbourhood, even though it is clearly a fully functioning neighbourhood with many of the amenities and the cool factor you would want in a neighbourhood. Leslieville is still changing and growing as a neighbourhood. Still, someone moving from Leaside to Leslieville may still see this neighbourhood as "emerging". Whereas a middle class couple or single person would find the housing stock here more expensive than many other parts of Toronto, and not consider it emerging at all.
By Toronto standards, an emerging neighbourhood usually follows a certain trajectory. First, it is a neighourhood that is either neglected for decades where the Main Street has closed-up, or has very few shops. It may not even have any commercial businesses for the neighbourhood. The housing stock is in often in rough shape, humble or non-existent (previously not used largely for residential purposes, like in Liberty Village). In a pre-emerging neighbourhood, the streets and residents usually have little community feel. There are fewer people on the streets. It doesn't mean that the area is unsafe (though it could). It means they are largely forgotten. There are much fewer services. People often leave the neighbourhood for entertainment, sports and to shop. Businesses are old and struggling. Things are often not taken care of.
The next stage usually follows a group of new people, often priced out of a different neighbourhood who come in to buy houses. They fix these houses up. Businesses start coming to the Main Street, usually with an indie coffee shop that functions as a meeting place. Community-based activities form among it citizens. Neighbourhood activities are planned like a Holiday market, a Farmer's market, a stronger business association, etc. Eventually, the main street receives trendy businesses and much more options for shopping like brew pubs, bakeries, more coffee shops, organic markets, vegan things, tapas, or a well-reviewed roti shop, Vietnamese sandwich joints, Dim Sum restaurants or a pierogi palace.
In the late stage of an emerging neighbourhood you'll see small scale condos coming to the neighbourhood like in the Junction where there are 4 applications all along Dundas Street East to build low-rise boutique condos in a one kilometre span.
Today's blog, however, is for those seeking to get in early to an emerging neighbourhood before things take off and prices follow along. Those areas where things are just starting take turn around, where it's still early days. The schools may not be great (yet), but there is momentum building. There is a ways to go here, but change is in the air. Word is getting out, but much more change is yet to come.
So, here is my top three emerging hoods of 2017.
MOUNT DENNIS
Mount Dennis is the neighbourhood that falls between Weston to the north and the Junction to the south. The housing stock here can be surprisingly well-maintained and charming. It's not all fixer uppers. Some people who have lived here for decades have taken care of their houses. There is some pre-existing pride in this neighbourhood. Mount Dennis is like a flyover state, though, to an outsider. It's a neighbourhood that people pass through to go to another one or to make their way you to the highway. It has a bit of an identity problem. It's a mix of box stores, storage facilities, car washes and struggling, scrappy Main Street businesses. Traditionally, Mount Dennis has not been a terribly accessible neighbourhood. It is not near any frequently used streetcar routes or subway lines. That's all about to change with. Soon you will be able to jet across the city on streetcar track that is mostly underground and not slowed down by traffic. The last stop on the Eglinton Crossway is at Mount Dennis, connecting nicely to the rest of the city. In terms of Main Street, there's a little one along Weston Road just south of Eglinton. Not much happening here, but in recent years Mount Dennis has produced an independent coffee shop called Supercoffee. On the corner of Eglinton Avenue West and Weston Road, Supercoffee functions as a hub of community engagement. It was started by someone who grew up in Mount Dennis and saw the opportunity to bring something to the neighbourhood that will function as a hub. So far, all signs point to Supercoffee being a hit. If cosy coffee shops are not your thing, you have a box store buffet to the south of you including the usual suspects like Home Depot, Canadian Tire and Staples, but you also have the new Stockyards Mall and an LA Fitness Gym. To the surprise of many, you'll find an Organic Garage that advertises itself as "healthier food for less". The one thing that is often forgotten here is just how close you are to green space in Mount Dennis. You have Fergie Brown Park to the west that leads to a pleasant and lengthy bike and walkway of the Humber River. Dog folk and stroller-walking parents, take note.
STERLING AVENUE
Sterling Avenue isn't really a neighbourhood per se, but a neighbourhood in a neighbourhood. It is the southern portion of the Junction Triangle. Even ten years ago, this space was mostly industrial and commercial. Nestle was the king pin on this area where the smell of chocolate permeating everything. The funny thing about this area between Dundas St. West to the south and Bloor to the north, and tracks to the east and west, is its location. This is a well-located neighbourhood that has been overlooked for a long time. With Bloor subway to the north and the Dundas Street car to the south, getting around is not difficult. Still, it's not exactly a place where you would want to live. And then came MOCCA or the the Museum of Contemporary Canadian Art that took the grand Toronto Automotive Building. Soon after the kingpins of cool came to this area bringing the Drake Commissary, a wildly successful cool spot with the latest and greatest things to eat. Now the condos are coming. There has been some setback here. The much anticipated Museum Flats cancelled their condo project, and an earlier condo that was originally going to take over the Toronto Automotive Building went belly up, but the forces are too strong here. This area will be filled in with condos. It's just a matter of time, and with the Drake Commissary and MOCCA as your neighbourhood anchors in a high demand neighbourhood, you can't lose.
OTTAWA STREET
Let me give you a hard reality about this emerging neighbourhood up front. Ottawa Street is not central. It is a great example of the "drive until you qualify" mantra for trying to get a mortgage. So, allow me to send you to a faraway place in a different city in the GTAH. Yes, I included and "extra "H" on my GTA to include Hamilton. Hamilton has some great emerging neighbourhoods. The most popular one conveniently located by the GO station to Toronto is on James Street. Other emerging Hamilton neighbourhoods include the Harbour West Marina, Corktown (Hamilton), Gage Park and the latest: Ottawa Street. For me, this is kind of a "new Leslieville". It has all of the elements that Leslieville had in 2004, including the lower prices. There is a new Farmer's Market, a growing population of artist and artisans, indie coffee shops, new restaurants and even a revitalized town square. For those on a budget, who still want city living over suburban living, then this may be a great option. It will be a killer commute if you work in Toronto five or more days a week, but if you can make it work by only coming to Toronto a few days a week, then you can have all that a hip city offers with a happy wallet too.
So, for those seeking the next emerging neighbourhood, these three options should provide you with some opportunities to live happily and grow your wealth. For those looking for the next hip condo neighbourhood, you should monitor the area around Sterling Ave. For those who want hip hood on a budget, then Ottawa Street could be your oasis. And for those who must stay in Toronto and have a house, Mount Dennis may require a second look. There are a lot of ways to insert yourself into an emerging neighbourhood. You just have to determine your budget, write-up your must-have list, and go hunting.